[Practicing Gratitude with Kids has amazing benefits. Here are some gratitude activities you can do with your kids to practice gratitude as a family.]
Watching my children awe at everything from marveling at the beauty of a butterfly or bug to getting to experience a new food or going to a new park has been quite a heart opening experience. It helps me to remember glimpses of the wonder-filled moments in my childhood.
Children are naturally present and grateful, but it is a practice that we as parents need to guide them to intentionally cultivate this practice through gratitude activities so they can continue to find the joy that comes from gratitude beyond the early years.
Gratitude Activities for Kids
Practicing gratitude is like strengthening a muscle. The more we practice finding things to be grateful for the easier it gets to notice the good all around us.
Weaving gratitude activities into our daily lives with kids can help them to effortlessly build their gratitude muscles and make it easy for them to see more of the beauty and love in the world.
Why Practice Gratitude with Kids?
Life will bring our children challenges, no matter how well we prepare them.
When children cultivate a practice of finding things to be thankful for they are able to see the gifts and silver linings even on the hardest days.
There are so many benefits that accompany practicing gratitude with children.
Practicing gratitude activities with kids can help them to be in awe of the kindness and beauty in the world and help them to bring more joy in their lives into adulthood.
[Please Note: This post may contain affiliate links. This means that Soul Care Mom may receive a small commission if you click through and make a purchase, at no additional cost to you. Please see disclaimers for more information.]

Fun Gratitude Activities to Practice with Children
There are so many ways you can weave gratitude into your days with your kids.
Here are some ideas to get you started:
1. Gratitude Jar
One of our favorite activities is creating a gratitude jar.
Here's how you can use a gratitude jar on Thanksgiving to infuse your day with thankfulness:
1. Choose a jar and have fun decorating it.
2. Cut up some strips of paper and let everyone write or draw some things that they are thankful for. Fold up each strip of paper and put it in the jar.
3. When you sit down at the dinner table just before dinner pass around the jar and take turns picking out pieces of paper and sharing the things that each person is grateful for.
2. Grateful Hands
Another fun thankful activity you can practice with your little ones is to have them trace (or help them trace) the outline of their hand on a blank piece of paper. Then write one thing they are grateful for on each finger.
You end up with a beautiful list of things that your child is grateful for – plus it makes a precious keepsake.
On Thanksgiving, this can be a fun activity to do with kids while the turkey is in the oven.
They can even decorate their hand drawing to make it look like a turkey!
3. Gratitude Meditation
Practicing meditation can have a multitude of benefits for kids.
Practice having a few moments of quiet each day.
Choosing something you are thankful for and then holding your attention on it as you breathe can be a lovely way to end your day with your little ones.
You can snuggle with your little ones and just sit in silence for a few moments.
Or you may like to listen to some soothing music while you meditate on your gratitude(s) for the day.
4. Reach Out to Loved Ones
Another idea for practicing thankfulness is to practice telling others what you are grateful for in your relationships.
You might even take this a step further and make cards for friends and family or call up relatives that live far away to let them know what you appreciate and love about them.
5. Keep A Gratitude Journal
Start a gratitude journal for your kids to write down or draw at least one thing they are grateful for.
This can also become a beautiful keepsake to look back on.
6. Dinnertime Thanks
Dinnertime is a great time to practice giving thanks.
Anytime you sit down to dinner or another meal where your family comes together to eat, can be a great reminder to practice sharing what you are thankful for. Simply go around the table and share what you are grateful for that day.
7. Gratitude Walks in Nature
Going for walks as a family after dinner or on the weekends can be a great way to enjoy the beauty of nature.
Intentionally spending time in nature where you and your children are free to explore can help you find so many things to appreciate and enjoy.
You can also play a little yoga while you are outside. Choose an animal or plant you see and then create a yoga pose to go with it.
Either while you are on your walk or afterward allow some time for each person to share at least one thing they are grateful for.
You may even like to start a nature journal or scrapbook as a fun way to remember the beauty of your nature walk.
8. Stories About Gratitude
Incorporate some books about gratitude into your collection of books, to help weave in messages of thankfulness into your storytimes.
9. Bedtime Thankfulness Rituals
Sharing what you are grateful for and even something you would like to find a new perspective on, such as something that challenged you or your kiddos that day can be a great way to spark meaningful and insightful conversation with your children.
It can help them to see the blessings in their day and open up about the challenges they faced in their day and help you connect with them in a deep and meaningful way.
Create Your Own Rituals
The possibilities are endless when it comes to finding ways to practice thankfulness with your kids.
Be creative and find fun ways to practice gratitude with your family.
More Self Care for Kids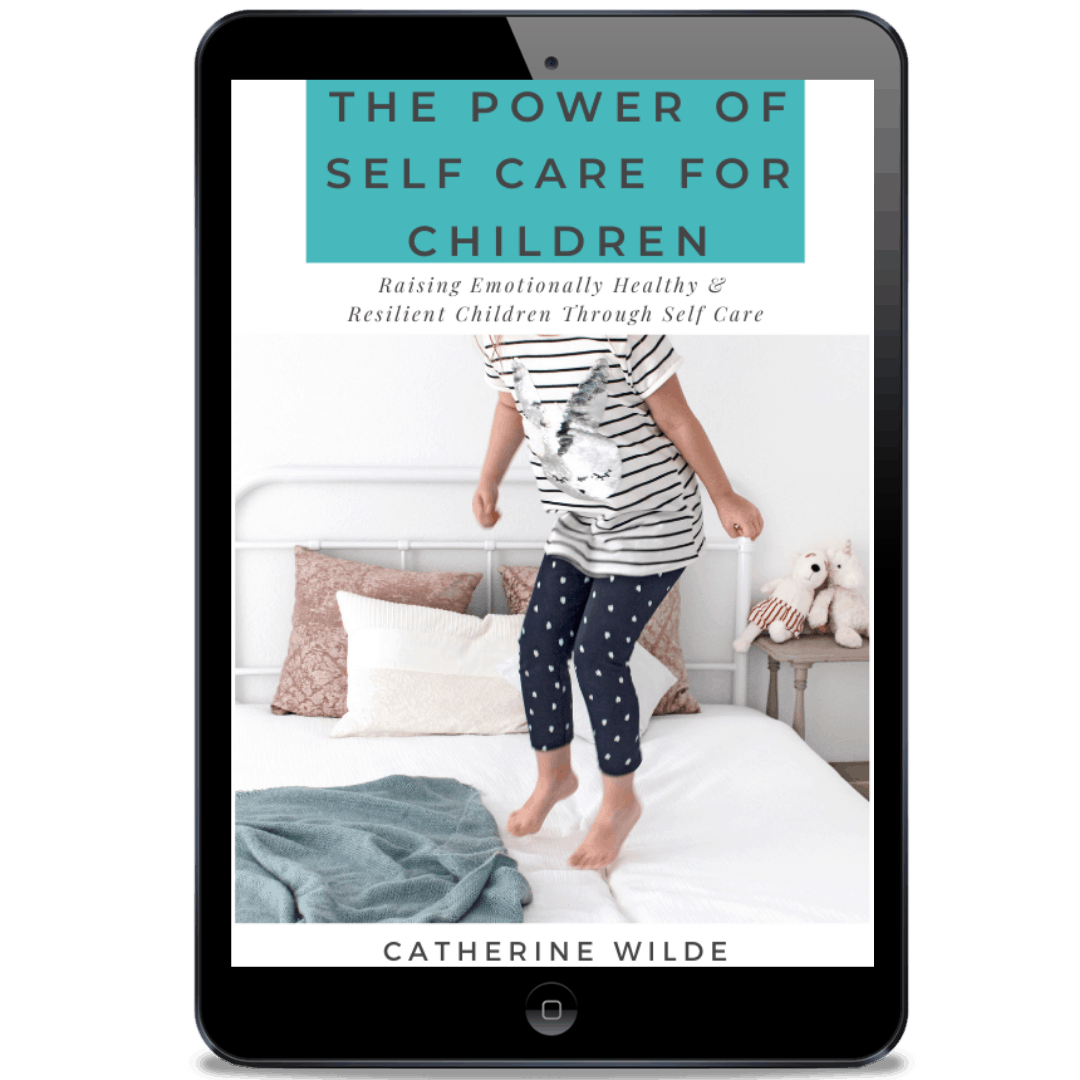 Pin this Soul Care Goodness for Later!