[Do you feel like you're failing as a busy mom? Find out how to survive and enjoy the busy seasons of life as a mom.]
Do you ever feel like you're waiting for things to change in order for your life to get easier?
Whether it's the change of the seasons or waiting for your next vacation or a job to change, or waiting for your kids to get older?
Maybe your kids are involved in a lot of activities like multiple sports teams, and your days are filled with chauffeuring and being a chef. And you're waiting for the next season.
The next chapter, so you can finally slow down and find time for yourself.
You can also listen to this conversation on iTunes, Spotify, or your preferred podcast platform.
[Disclaimer: The information shared is from personal experiences and/or research. We're not medical professionals. We share in hopes that it will help you tap into new insights and inspire you. Everything shared is for informational purposes only and is not intended as a substitute for medical advice. Always seek the guidance of a trusted health professional for your unique journey.]
[Please Note: This post may contain affiliate links. This means that Soul Care Mom may receive a small commission if you click through and make a purchase, at no additional cost to you. Please see disclaimers for more information.]
Busy Seasons Of Life
Sometimes we go from the busy school year to the even busier summer that is a little disjointed in the schedule, right?
We long for the lessening of the rigidity of the schedule of the school year, but then when we move into the freedom of the summer, it gets filled with lots of activities, and that also seems busy.
So if it feels like life just won't slow down and you're waiting for something to change I want to share a little story with you.
You know those moments and conversations that unexpectedly change your perspective and make you reconsider the way you look at life?
The Seasons Of Life And Motherhood
Travel back in time with me for a moment.
When my now ten year old was still in diapers. We had just finished a Mommy and me music class.
I was on my hands and knees, helping her slip her sandals back onto her sweet little feet, knowing that it was futile because her shoes would somehow find their way off her feet before the car ride home was over.
Maybe you can relate?
But the conversation that was happening as all of the moms gathered their belongings and ushered their kids out the door, was one that changed the way I looked at motherhood.
One of the mothers, laughingly said, "One day things will slow down and get easier."
And the music teacher, who had homeschooled all of her children and was now a grandmother said, "I wish that that was true, but things never really slow down."
And those words made me think, and they stuck with me.
I could have taken those words to mean that life would always be hard and just let myself feel discouraged and hopeless. But they ended up having the opposite effect.
Intentionally Slowing Down The Season Of Life You're In
As time went on, I began to realize that life would always be filled with activities and to dos. But I could still create space to nurture myself in little and big ways no matter what the season looked like.
The music teacher was right, life will always keep moving.
There will always be more things to do.
Even though the world around me seems to be moving at breakneck speed, my inner world can be a safe haven for myself and my children.
Even though it feels like there is a lot of busyness and interaction and yet connection seems to be lacking, I can start by connecting with myself.
So that I can connect with others from the depth of my being.
If you're feeling overwhelmed by life and always hoping that the next chapter will be less busy, I invite you to instead find that sense of slow and ease within yourself.
Instead of looking to the outside world.
And from that place of inner connectedness, you can bring that quality of slow living, ease, peace, and joy into your outer world and into your interactions and everything that you do.
If this message resonated with you, I invite you to explore my book Reclaiming Your Inner Sparkle. You can grab it and all of the amazing book bonuses by clicking the button below.
And I want to leave you with this, Mama. No matter what life looks like for you right now, you get to decide how you show up.
You can intentionally shift your mindset and prioritize your self care.
You are worthy of love and care always.
And just in case no one's told you yet today, you are a beautiful light in the world and you are loved more than you know!
Keep sparkling, Mama!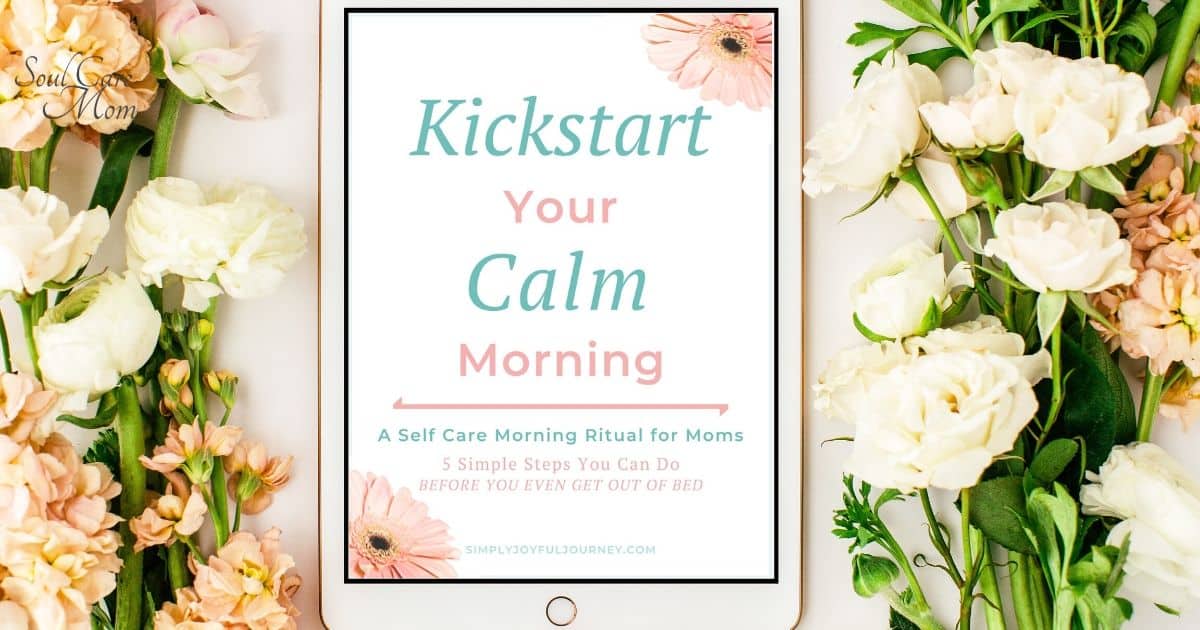 If you are ready to start your mornings feeling calm and energized, get the Kickstart your Calm Morning Guide, a self care morning ritual for moms as a free gift, when you join Soul Care Mom Community.
Click the button below to get your free gift and start feeling like a calm mom today!
Sending you so much love Mama.
Save This Soul Care Goodness For Later!