[Discover the importance of creating work life balance so you can be a present mom and productive in your work!]
Balancing mom life and work life can definitely be a challenge!
Finding time to accomplish all of the things on your to-do list for your home and business and still have quality time to make precious memories with your kiddos can feel like quite the daunting task.
The Importance of Work Life Balance
Creating balance in your life and practicing self care in your day is so important to helping you be the mom and momprenuer you long to be.
Understanding the importance of work life balance in your days is key to transforming your days, Mama!
When you take time for yourself in your day you can replenish your tank so that you can be a more present mom and more productive at work!
Looking for some tips and tricks to get it all done as a Mompreneur? Here's everything you need to know to achieve work life balance as a mom.
Your Environment Matters
Just as having a sacred self care space can make practicing self care regularly a breeze, creating a space that is just for your work can help you to focus and create some boundaries between work life and personal life. So if you have your laptop and papers out on the kitchen counter while you are making dinner, it jumbles the boundaries and makes things feel more overwhelming.
Even if you don't have a separate room to dedicate to an office, you might consider having a small desk in the corner of a room, that is just for your business.
[Please Note: This post may contain affiliate links. This means that Soul Care Mom may receive a small commission if you click through and make a purchase, at no additional cost to you. Please see disclaimers for more information.]
Things to Consider When You do Have Focused Work Time:
Keeping Your Distractions to a Minimum – Closing all the unnecessary tabs in your browser when you are working, can help you to focus and be more productive when you do sit down to work. – this may seem simple, and even silly, but it can help keep you from getting sidetracked and distracted from what you are trying to get accomplished.
Take Advantage of the Quite Times in Your Home – Taking advantage of the quiet early morning hours. For me the first few hours of the day are the hours when I am the freshest and most productive for me. I am usually my most creative early in the day, so I like to take advantage of the peaceful time before the kids get up.
Use Strategic Tools to Help You Focus – One tool you can use to your advantage is to set a timer – you can use this in a few different ways. You can set a timer for a particular task, like doing some writing, which early morning is a wonderful time to do this. So you would set your timer for 15-20-30 minutes and then just focus on one task in that time. You can also use this to help limit your time on social media. Social media platforms are a great way to reach people around the globe, make connections and serve others, but it can be easy to get lost in the feed and loose track of time. So using a timer when you decide to get on social media is a great way to stay focused and keep you from getting lost in the feed.
Beyond the Technical Aspects of Being a Mom and a Business Owner
Setting Healthy Boundaries
In addition to having a separate place for your business within your home, it is important to set office hours, so that you have focused work time, but you also have focused family time.
It can often feel like we have so much to do!
Let's be honest – there is and always be more to do. So taking a deep breath, and allowing ourselves to be present with our family.
Focused Work
When you do have time to work – focus on work. It is amazing how much you can get done in a short period of time – when you are Intentional instead of procrastinating and not prioritizing the most important things first.
If you need help figuring out what you need to focus on, and you feel like your to do list is daunting check out the Eisenhower Matrix to help you bring more clarity to what is really important and what you need to be spending your time on.
When Office Hours are Over…
Practice Presence
On the other hand – when you have time with your family – be fully present with them.
Allow yourself to enjoy the moments with your kids and make those precious memories with them.
I recently heard someone say, "You only have 18 summers with your kids." That statement really put things into perspective for me.
We don't want our children to think that our smart phones are more important to us than they are. We want them to feel really loved and cherished and one way to do that is to be present and focus on your sweet kiddos!
Give Yourself Grace
As moms, our schedules are often not the same from day to do and especially when we have younger kiddos, we often have to work around nap times and sick kiddos..teething…and emotional upsets.
It is okay that our work schedule doesn't look like the 9-5 that we may have been used to before kids.
That is part of the beauty of creating your own business.
Stay In Touch with Your Feminine Side
One way to truly understand the importance of work life balance is to stay in touch with your feminine side.
Of course, there will be some managerial and administrative work that you do, but sometimes we overlook the fact that making the connection, nurturing the relationships, and creating beauty in the world are actually productive parts of our business too.
These aspects may be less tangible and harder to chart, but they are vitally important, and women tend to naturally excel at these.
So on days when all you did was to make a connection or check in on a friend, consider that part of your work. See it as adding value to another person's life. That is part of building a solid business foundation.
I remember being a part of a corporate world, before my kids were born, and while data and bottom lines are important, I think as moms we are missing out if we do not play on our strengths and connect with our community.
Prioritize Your Self Care
One of the best ways to create work life balance for moms is practicing self care.
Prioritizing our self care is so important. That is how we fill out tanks, as moms, so that we are not running on empty. That is how we have the energy to give to our families and work on our businesses.
Taking time for self care helps you to live with more intention and helps to guide your day in a beautiful way.
Download your list of 50 Soul Nourishing Self Care Practices to help you feel calm as a mom and find balance in your work life!
Kickstart Your Mornings
Another great way to ensure balance in your days is to start your days with intention. Creating a simple self care ritual can help to bring endless benefits to your day. Helping you feel calm and even enhancing your productivity throughout the day so you feel accomplished as a mom and momprenuer!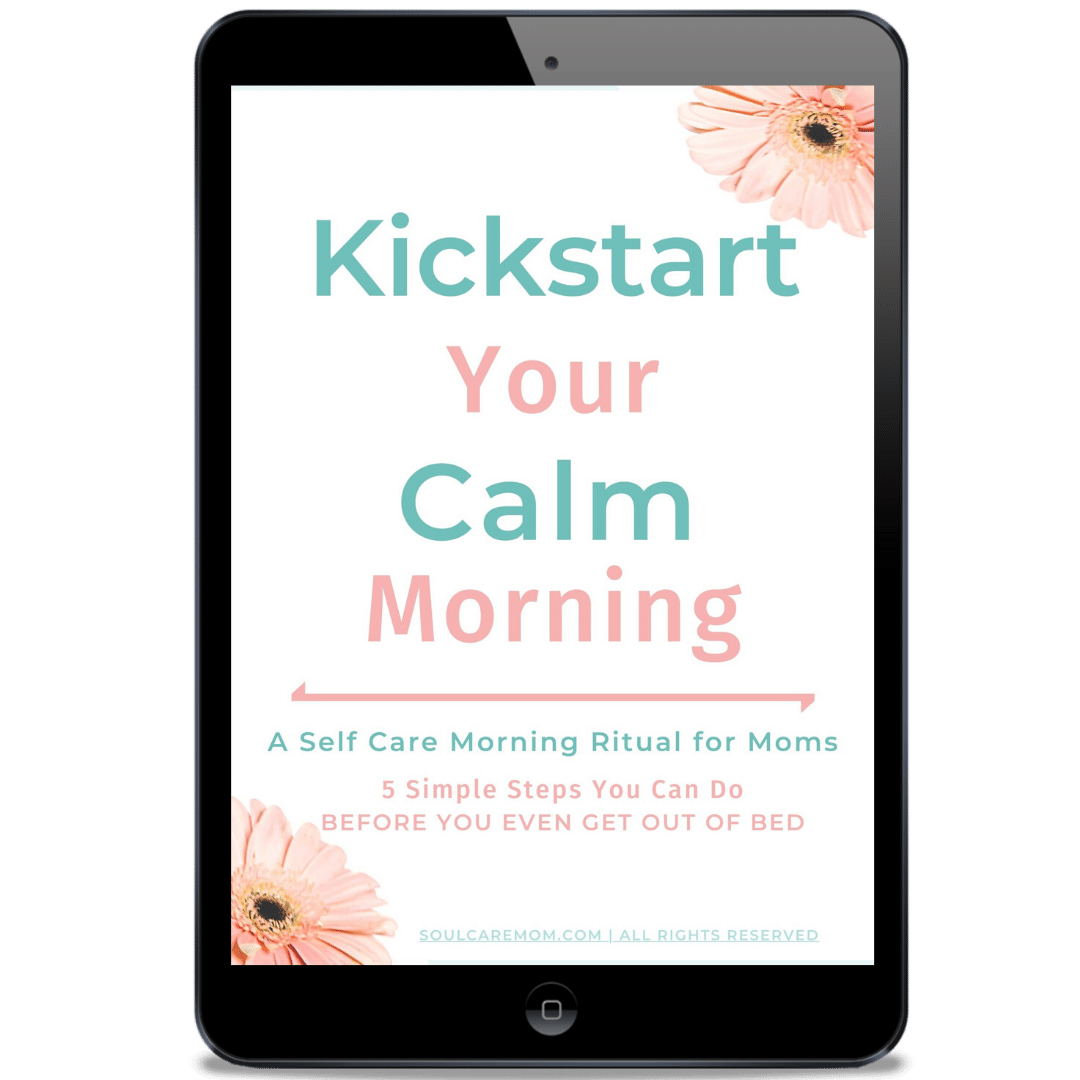 Enter your email address to join the community and get soul care goodness delivered to your inbox weekly! Plus get instant access to 5 simple steps that will help you feel calm before you even get out of bed!
Pin this Soul Care Goodness for Later!