[Your breath can help you to stay calm. Here's one simple breathing technique that will help you to release tension and relax your body and mind. Discover how you can stay calm and breathe.]
The cool breeze inspired us to do a little camping recently.
Being out in nature can ground you and help to bring you back into the present moment.
Once our tent was set up and my kids and I began to explore the area around us I began to feel a sense of ease wash over me.
All the tension and the unending list of things that needed to get done seemed to slip away as I breathed in the fresh air and allowed myself to be fully present.
That feeling you get when you step away from all of the digital distractions and do something just for you.
A sort of "thank you" from your inner self, as you realize that's just what she needed.
---
Stay Calm and Breathe
Each year for the past few years, I've chosen a word for the year, instead of a new year's resolution. This year my word was "ease".
I have come back to this word more times than I can count. And I wanted to share a quick tip with you so you can find ease whenever you need it.
[Please Note: This post may contain affiliate links. This means that Soul Care Mom may receive a small commission if you click through and make a purchase, at no additional cost to you. Please see disclaimers for more information.]
Just Breathe Mindfulness
There are many benefits that accompany deep and mindful breathing. Just breathing with mindfulness can help to get you out of the "fight, flight, or freeze" response and help to relax your nervous system.
Benefits of Abdominal Breathing
Most of the time we tend to take shallow breaths. The simple act of abdominal breathing or breathing into your diaphragm can help you to release stress and anxiety.
You can practice abdominal breathing by simply breathing in through your nose and allowing the air to fill and expand your belly. And then breathing out through your nose, allowing your body to soften and relax.
Being mindful of this simple shift in your breathing can help you find your calm anytime.
3 Minute Breathing Exercise to Help You Relax Your Body and Mind
We often hold tension in our bodies without realizing it.
This one simple breathing technique will help you to relax your body and mind. One of the best things we can do as moms is to stay calm and breathe.
Follow these simple steps to release your built-up tension any time:
Notice the sensations in your body. Where are you feeling tension or stress?
Breathe in and tighten and tense up your entire body for a few seconds. (Or simply breathe into the space that feels tight – ie your shoulders)
As you breathe out completely relax your entire body and let go of any tightness or tension.
Notice how you feel & allow yourself to smile!
You can repeat these steps slowly and with mindfulness several times until your body and mind feel relaxed and at ease.
If you loved this tip be sure to join the Soul Care Mom Community to get even more Soul Care Goodness delivered to your inbox!! Plus you'll receive Kickstart Your Calm Morning a Free Guide as a Gift to help you start your mornings feeling calm and energized when you join the community!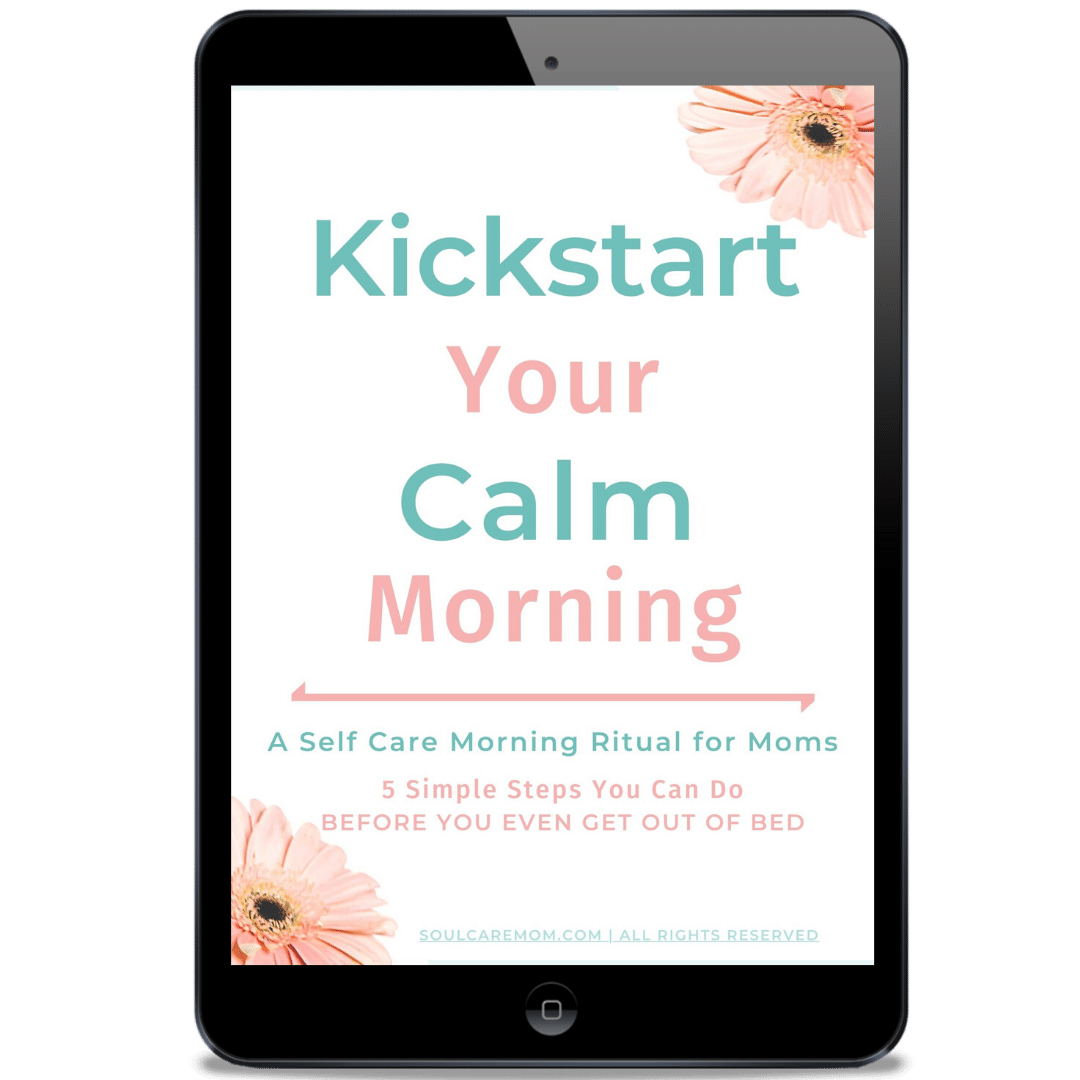 ---
Pin this Soul Care Goodness for Later!