[Want to learn how to be playful, Mama? Discover tips and tricks to be more playful so you can be more present and connect with your kids!]
I was anywhere but present as I sat on the floor with my little one. My foot tapping impatiently on the carpet and one eye on the clock.
I wanted to be present and immerse myself into her world of play, but my mind was on all of the things I needed to get done.
Playing just didn't feel "important" to me. But as soon as that thought crossed my mind I felt a wave of guilt wash over me. This tug of war inside of me was happening because in my heart I knew that right here on the floor is where I needed to be.
Over time I was able to drop the guilt of not doing all the things and simply make more room for play in our day. I realized that the dishes, laundry, and emails could wait.
Everything I need is here in this moment with my kids.
It took me a while to navigate the this path, but I have found some beautiful ways to help myself find more balance between the responsibilities of mom life and making time to play and be present with my kids.
If you're ready to be a more fun and playful mom, keep reading!
[Please Note: This post may contain affiliate links. This means that Soul Care Mom may receive a small commission if you click through and make a purchase, at no additional cost to you. Please see Disclaimers for more information.]
Letting go of "Should" From Your Vocabulary
Most moms feel like they are never doing enough.
There are so many things that you need to do as a mom and many many things that we feel we should be doing.
When your mind is cluttered with all of these "shoulds" there isn't much space left for presence and playfulness.
Aside from activites we feel we "should" be doing, "shoulds" can also look like judgements and comparisons that make us feel like we are doing mom-life wrong.
For example, if your kitchen is a mess (complete with a sticky floor) and there is a mountain of laundry on your couch, you may feel like "that's not the way my house 'should' look.
Or maybe your kids don't do as many extracurricular activities or have different interests than the other kids in your circle of friends, you may get those feelings of doubt and not enoughness.
But those doubts worries and fears are not the truth. They are not serving you. It's time to let them go. And one beautiful and simple way to do this is to erase the word "should" from your vocabulary.
Start to become aware of when you start to say or think something "should (or shouldn't)" be a certain way. Pause. Breathe. And reframe your thought.
"Mom, can you play with me?"
Your kids see playing with them as a way to show love. Asking you to play is how your kids ask for connection.
How to Be Playful as a Mom
So if you are ready to let go of the guilt and start feeling more playful and present as a mom, here are some simple steps for you to explore.
Steps to be a More Playful Mom
Write down your list of to-dos – On a piece of paper or in the notes app on your phone jot down everything that you need to do. It can be tough to be the carefree fun mom you want to be when your epic to-do list is calling your name. Physically writing down or typing out your to-dos can help you to declutter your mind and allow you to be more fully present with your kids.
Do a Self Care Check-in – Before sitting down to play, be sure to check in with yourself. Simply checking in and seeing what you need is a beautiful way to acknowledge and care for your own needs. This can be as simple as taking a few deep breaths or getting yourself a glass of water.
Let go of expectations – When you create an expectation of the way your playtime with your kids "should" look you are putting it in a box. Having strict expectations for playtime keeps you from being able to go with the flow and follow your child's lead.
Use your senses – Tap into the sights, smells, tastes around you to help bring you back into the present moment.
Ask questions – You don't have to be a master at imaginative play. Allow your child to take the lead. Simply allow yourself to be curious and ask questions. This gives your child a chance to invite you into their world.
Give Yourself Grace, Mama
Playtime doesn't need to be perfect. And you don't need to be perfect, mama. Know that your kids don't need you to be perfect. Your kids simply want to connect with you.
Ready to be a truly playful mom? Check out the Playful Mom Masterclass to go deeper on this topic so you can be the playful and present mom you long to be!
Self Love Will Help You Be a More Playful Mom
Practicing self care and self love helps you to fill your cup so you can pour more love into your kids.
Taking time each day to do something special for yourself will help you to care for your needs so that you can be playful and present with your children.
One great way to practice self care is to start your morning with a simple self care ritual.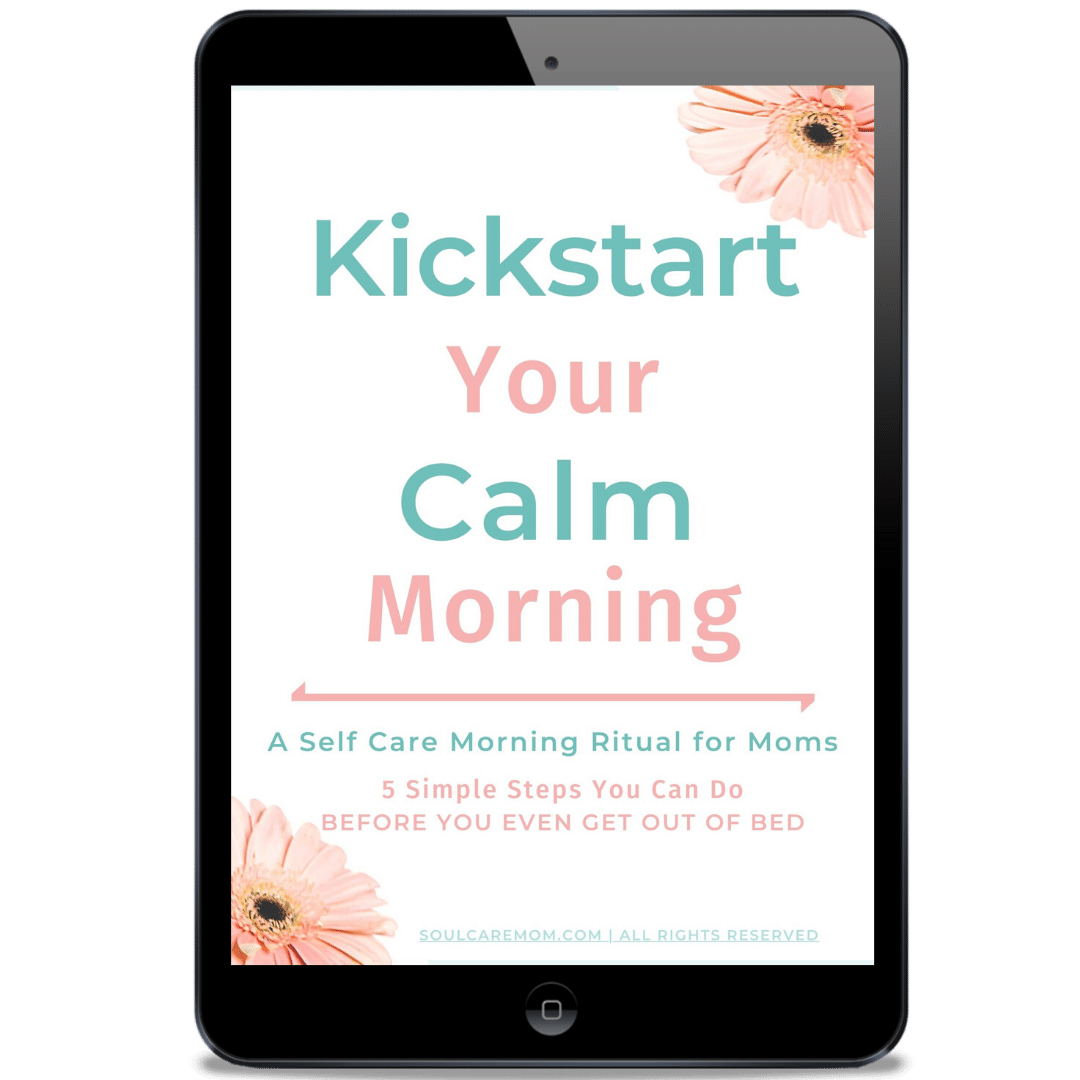 Be sure to grab your Free Copy of Kickstart Your Calm Morning, so you can start your mornings feeling calm and energized as a mom.
Pin this Soul Care Goodness for Later!