[Want to be a present parent and still have time for YOU? Here are some simple tips to help you stay connected and present with your kids and practice self care as a parent.]
Have you ever felt the pressure to be everything to everyone as a mom and as a result your needs end up getting put on the back burner? Today, I'm chatting with Amy Ballantyne about how you can start putting yourself on your agenda and prioritizing your wellness so you can be a present parent. You are going to love this conversation, Mama. Let's dive in.
Hi there, soulful mama. Welcome to the Soul Care Mom Podcast. I'm Catherine Wilde of soulcaremom.com.
I'm a mom of three amazing kids a Soul Care Mom Coach and yoga and meditation teacher. I've helped hundreds of women. And I'm here to help you feel calm and find your unshakable confidence as a mom if you're ready to stop living in survival mode and you're ready to drop the mom guilt and overwhelmed.
This podcast is for you. Think of this as a lunch date with a girlfriend. Grab a cup of tea and get cozy. It's time to get honest and vulnerable and shift the traditional mindset around motherhood.
Be sure to subscribe to be the first to know when new episodes are released. Get ready to grow and feel empowered as a mom. I'm here for you, Mama. Let's get started.
[Disclaimer: we are not health professionals. This chat is solely based on research and personal experience. If you have any concerns please seek out the help of your trusted health professionals.]
[Please Note: This post may contain affiliate links. This means that Soul Care Mom may receive a small commission if you click through and make a purchase, at no additional cost to you. Please see disclaimers for more information.]
Catherine Wilde
Hi, Amy. Thank you so much for joining me today.
Amy Ballantyne
Hi, Catherine. It's great to be here. Thank you.
Catherine Wilde
I would love to start just by talking a little bit about your journey and how you came to help busy moms with wellness.
Amy Ballantyne
Absolutely.
I really believe that I'm I'm called to this energy of serving other other humans, other women, especially when we become moms. I feel like sometimes for some of us, we lose a little bit of ourselves.
Amy Ballantyne
And I know that certainly happened for me. And I as a person that's always been passionate about health and wellness, I kind of put those two things together as a way to to share my heart. And I believe that's part of my purpose, is helping other moms to feel like they are enough. Part of my journey as well, that we are worthy of time for ourselves.
And we are we are more than we know.
So my journey really stemmed from this, you know, connecting with myself and learning about these topics. But I've always been passionate about health. From a very young age, my mom lost both of her parents and this actually has fueled the desire in me to want to live healthy enough now so that I can be around long term for the grandchildren that I hope to have.
And that's really why I take action steps every single day towards my health, towards my mindset, towards my well-being, and why I encourage others to do the same. So that they can be around for the long term for the people that matter to them as well.
Catherine Wilde
Oh, that's a beautiful and empowering story. And I completely agree that connecting with yourself and learning to care for myself was one of the best things that I did. Not only for myself, but for my children as well.
Amy Ballantyne
Yes.
Catherine Wilde
And I love that you say that you deserve to feel amazing. Many moms put everyone else's needs before their own and we end up kind of losing sight of ourselves and our own needs.
And so I love this reminder.
Catherine Wilde
Depending on where a mom is and mother had their sleepless nights, there's making sure everyone gets fed. There's a holding space when kids are upset. There's really so many things going on. And sometimes we get so lost in that we even forget what it feels like to feel amazing in our own bodies, to feel good in our bodies.
Can you talk a little bit about what it means to feel good in your body?
Simple Ways to Be a Present Parent
Amy Ballantyne
Yes, you know, one of the things that I like to start with is helping moms to reconnect back to things that used to bring them joy before they became a mother.
Right? We were full blown humans before we brought humans into this space.
And there were things that we would spend time doing because they brought us great joy. And so that's what I would encourage moms listening to reconnect with if they haven't already done so.
Amy Ballantyne
What were the things that made you smile? What were the things that you invested your time, not spent your time in, but invested your time in. Like, you know, perhaps you like to play volleyball, I know a group of moms in our neighborhood invited me a couple of years to join a beach volleyball.
We were a group of moms, not the rest of the organization, but we were a group of moms who we're going to play beach volleyball together.
Amy Ballantyne
And I remember saying to her, how fun it was because I hadn't done that sport since high school, but I remember my body remembers how fun it was. And even though we weren't to the caliber that maybe we once thought we were, it was just fun to play and to laugh and to tell jokes.
And just be together as women, as humans, without the responsibilities. For me, it was asking for help with my husband to take care of the kids so I could go and play the ball.
Amy Ballantyne
That's a great practice as well. I put a lot of things on myself. I put a lot of pressure on myself. I didn't ask for help enough. And that was one experience where I really challenged me to say, you know what, no, this is important to me. It is important for me to go be social and to go move my body and to have fun and to laugh.
And then when my husband brought the kids to watch one of the games, you know, of course, there was that opportunity for them to see mommy being her own self and connecting with something that brought me joy as a young person.
Amy Ballantyne
These are moments that are teaching not only are our kids, that we are still human and we have these things, but, you know, especially our daughters, that they will one day grow up to be moms.
And it's important for them to go out and have their experiences. And they're fun to right? We're teaching the next generation every single time we do anything, right?
Yes, it's a gift to share with them. And they watch. They're paying attention.
Catherine Wilde
Yes, they are. So I love that. Doing things that brought you joy before.
Right after you have a baby, there's a lot going on and, you know, you're probably exhausted. Your body's healing. You're getting very little sleep. What tips do you have as far as tending to your health and wellness during that newborn period?
Amy Ballantyne
Yes. Oh the newborn. Le me just put myself back into that glorious time.
So one of the things honestly, I feel like my third baby I like, really soaked in every moment because I knew it was my last one. I don't know if you could probably relate to that as well.
But it's just that knowing and if you're in the thick of the like, holy smokes time number one, I would say any time that you are able to close your eyes and it's safe to do so, do so. Right?
Amy Ballantyne
If you're nursing, I nursed as much as I could with the lights off so that if I could get a couple of moments with my eyes closed, even if I wasn't sleeping, but taking those moments to just breathe and visualize things that you want to come into your energy, those positive moments with your baby, those positive interactions.
It's a great time to visualize actually.
Amy Ballantyne
Making sure that you feel your own body. And one of the things that was really, really helpful for me, honestly, is that I was using this amazing smoothie in the morning.
So it really didn't take much time. I could mix it with water if I wanted, or I could blend it with fruit and spinach and but especially if you're nursing or even if you're not fueling your body, especially first thing in the morning with something that has those carbs, fats, fiber and protein to just give you that boost.
Amy Ballantyne
Because let's be real. No sleep equals not a lot of energy for most people. Right? And if you have a new baby and you have a toddler or other children, you may have to be basically"on" for twenty four hours.
Because you're up nursing and then you're up with the other kids, there's just all of these things pulling you in different directions. So the closing your eyes, sleeping whenever possible.
Amy Ballantyne
Recognizing the dishes, the dishes can wait a little bit. The laundry, unless you're using cloth diapers and you literally are on the last diaper, the laundry can wait a little bit.
If it means that you can close your eyes for half an hour to forty five minutes, while baby is napping so that you can refuel and rejuvenate your body.
Amy Ballantyne
Oh my gosh. Those things can wait, you're going to have days and days and days of dishes and laundry.
Catherine Wilde
It's never ending.
Amy Ballantyne
Right? It's knowing that you're in this season.
And the way to thrive in this season is is truly by doing a few things for yourself consistently. And that goes a really long way.
Wellness for Moms
Catherine Wilde
Yes, I love that message. So you also help with simplifying health and weight management for women as well, right?
Amy Ballantyne
Yes.
Catherine Wilde
Especially right now, I feel like there is added pressure, maybe even make some pandemic snacking going on. You know? Like there's just lots of stuff going on.
Can you help us to navigate that a little bit?
Amy Ballantyne
Yes, for sure. So I'll start with the pandemic snacking. That is is a very hot topic, I think, right now.
So my trip around this would be to really connect with yourself when you're walking into the kitchen.
Well, actually, I'll back up and say, what are you buying? If you're the person shopping or you have some control over the grocery list, what are you buying?
Amy Ballantyne
And if you're not happy with the snacking, is there a way to reduce those things that are coming into the house?
Right? Because if it's not in there, you can't eat it.
Amy Ballantyne
If when you're walking into the kitchen, though, there's a way to remind yourself of this thought, why am I here? And not like talking big picture, I'm talking. Why are you in that kitchen? OK?
In that moment, why have you walked into the kitchen? And if you would stop and take a moment to think about that, because that's part of our challenge, right?
Is in this bordem state or this uneasy state. This time in our lives where we are unsure of when this covid is going to be over.
Amy Ballantyne
It's you know, some people are walking to the kitchen and just eating because they're bored, because they're lonely, because they miss their family. I mean, there's such a connection between food and relationships and family and social, all of those things.
And actually taking a moment to think about why they have walked into the kitchen is step one.
Amy Ballantyne
And then step two, after having a thought about that, would be having a drink of water. Because so often we are dehydrated, but we immediately go to food because it feels like hunger.
It feels like a craving. But starting with that first to see if that quenches your desire for something in your body, for something in your mouth, starting with the water.
Amy Ballantyne
I mean, water is brilliant for so many aspects of our health. So beginning there and then evaluating if it was boredom is there something else that you could do during that time when you walk in the kitchen?
And my friends trust me as new moms or moms in general, there are a million things coming at you. Is there a way for you to remember this? Is it a sticky note? Is it a big smiley face?
You know? You don't necessarily need to put the word why you could put the word "Why?" right on the snack cubbord.
Amy Ballantyne
But something to remind you of this moment. To think about why you're in there.
I'm always about making the snack, the meal, the moment you're eating a little bit healthier. Instead of how do we cut things out? It's how do we boost up the health and the nutrition of the things that are going in our mouth?
Amy Ballantyne
So if you've decided that you want to have a snack because you're actually hungry, is there a way that you can take that snack you typically have and make it a little bit healthier?
So if you've always had crackers, is there a way to make them healthier? Do you have avocado? Put it to put on it. Do you have a slice of cheese to put on it? Do you have maybe a little bit of nut butter to put on it?
Amy Ballantyne
Maybe you don't want the cracker anymore and you want to have apple and peanut butter. Or you want to have granola with some almonds and some grapes. Or maybe you want to have some hummus and some of the vegetables that maybe are available.
My point is, it's looking at what you typically have for a snack and how can you just up-level that. And again, moving the needle a little bit level of nutrition so that you can really fuel your body with something good in that time.
Amy Ballantyne
And if you and if it's the time to have a treat and it's a sporadic time throughout the week, not every single day for a period of time having treats.
But if it's the time to have a treat, I honestly believe one of the best things we can do for ourselves as women and again, I'm generalizing, but is to not beat ourselves up because we spend too much time doing that.
Amy Ballantyne
So if it's the time to have a treat, then have a small bowl. Have a bowl of the size that you feel is the right amount and enjoy that treat.
Without the guilt. Without the negative words. Without thinking anything about what could possibly happen because you had that treat.
But just have that one treat. Right?
Amy Ballantyne
And if it truly is once or twice a week where you're having that thing and you're enjoying it. That's great. That's a time to celebrate, not a time to be hard on ourselves.
You also mentioned about simplifying health.
Amy Ballantyne
So I already mentioned the tip on how do we make that meal healthier. And that's a tip that I bring to every meal, looking at the meal in that moment for the control that you have over that meal. Now that we're at home for most of our meals, we do have a bit more control. Right?
So it's how can I help level that level of nutrition? So does that mean perhaps cutting up some spinach and adding it to your pasta bowl?
My kids would tell you that when I'm making noodles because children like noodles, it's not that I don't make them, but I make them al dante.
Amy Ballantyne
So I cook them a little bit less. So they're a bit more firm. More to break down when it gets into the stomach. Meaning it slows down the amount the blood sugar is spiked. But I also like to add my bowl looks like a salad first. So I start by putting the vegetables in and then I have my small handful of noodles on top.
So I still get to enjoy the noodles. But it's not the whole bowl. Right?
And then I'm adding the sauce and the protein. So that's what I would challenge people to think is what is the meal that you tend to love and how can you up-level it today?
Amy Ballantyne
What things do you have in your house to up-level the nutrients? And really thinking about up-leveling means reducing the packaged processed.
And going more towards those fruits and vegetables, whole grains, nuts and seeds, legumes, those kinds of things, bringing those into your eating more.
And that's really what I mean by simplifying is, you know, there's a million diets out there because there are billions of people. Right?
Amy Ballantyne
Different things are going to work for different people. But I like to connect into what works for you, Catherine, in your house? And how do we just shift the level of health a little bit each day?
Drinking Water for Your Wellness
Catherine Wilde
I love those tips. I love doing little things because sometimes starting a whole new diet or figuring out what it's hard and it's overwhelming.
Especially when you have a family and everybody wants and eats different things and likes different things and needs different things. That's challenging. I love those tips.
Catherine Wilde
You mentioned water. Can we talk more about water because stay hydrated is so important and sometimes that just gets overlooked.
Do you have tips for helping us increase our water intake?
How much water should we be drinking?
Amy Ballantyne
Awesome. So one of the things now, my husband might be a little bit about this, but especially when I was nursing, you would find water cuts all over the place.
But I say bring on the water, right? If we need to gather up the cups, whatever, it's having things nearby to remind us.
Amy Ballantyne
So I tip that I got from a friend of mine was to put elastics on your water bottle so that you can remember how many times you filled it.
So as you fill it, you roll the elastic down, then you go fill it. Drink it. Fill it. Roll the elastic down.
Amy Ballantyne
Because sometimes we lose track of how much water we've consumed. For me, you'd be able to tell based on the water cups around the house.
But starting with something simple, and I would say, again, as you can see, I'm joking about it a bit, but if you need to have a water bottle in your bedroom, in your office, in the baby's room, in the living room.
Amy Ballantyne
Accessibility will help you to remember more. Now some people use an app, some people put a like a dinger or a timer or a notification to help them remember. I personally just put the cups all over the place, so I see them and then I drink them.
In terms of the amount of water, it's obviously we're all different sizes. But it's starting out with eight cups of water would be ideal. But it's starting out with something and then increasing it each day, if possible.
Amy Ballantyne
To a maximum of about two liters. But again, it depends on your height and weight as to how much water you need.
So the habit really is finding places that you tend to be more in the day. So if you often work at your desk there, Catherine, making sure that part of your had it before you head up to your office is is filling up that water bottle that you connect that water bottle with, something you're already going to do.
Amy Ballantyne
So if you always make yourself coffee in the morning, where do you put your water bottle at night? You put your water bottle right beside that coffee maker.
So, you know, you've got to carry those two things, your coffee and your water bottle up to the office. Or the habit of getting the bottle ready for your little one or attach your water consumption with something you know you're not going to miss.
How to Practice Presence as a Mom
Catherine Wilde
Love that. Yes. I do want to talk about to you talked about well, you mentioned to me before about practicing presence. And so for me as a mom, practicing presence has been so beneficial.
So what are some tips that you have regarding presence and being a present parent?
Amy Ballantyne
Number one would be putting the phone down, right? Really thinking about and discussing with your partner what are the values rules even that you want to have in your house.
And starting to practice them with yourself first. So one of our rules in the house is that there's no phone at the dinner table or the lunch table. There's no phone at the table ever.
And it's communicating that well before.
We made the rule that 12 was when you get a phone because you might be babysitting other people's children, you might be babysitting our other kids. We deceidedhat 12 is when you can get a phone. And that's like next year. Right?
But we've been practicing this concept forever, and he knows, right?
Amy Ballantyne
So it's thinking about what are the key priorities that you want to implement and starting to practice them in your own life.
That's probably the biggest one for being present.
It's also really considering how do you want to show up for your kids in their life?
So if the value that you hold is that you want to be at their activities.
My kids are in rep sports.
Amy Ballantyne
So it's like if my value, my desired value is to be present for 90 percent of their games unless another kid needs me somewhere else. Am I actually there?
Could I have a conversation with that child after about what happened in the game? Or was I busy chatting with someone, not paying attention? Was I, you know, on my phone the whole time? What are the things that are important to you in that relationship with your kids?
Amy Ballantyne
Things like, you know, we for us, everyone in COVID has had a different experience. But for us, one of the true gifts for our family is that my husband has been around for us to go for walks after dinner.
And for us to have way less sports than we normally do in a typical year and really embracing the opportunity to go out together as a family and to actually chat and and laugh and run and play and go to the park and ride our bikes and all of those things that, you know, in a typical year we would do.
Mindful Parenting Tips
Amy Ballantyne
But this year, we've been able to do so, so many family walks, I couldn't even tell you how many.
Which is such a gift for us. So how are you taking the opportunities to be with your kids?
I know some people do games nights. We sometimes do movie nights where that's a special thing, where we all pick a movie and we cuddle and we might have popcorn as a special treat.
Amy Ballantyne
Just thinking about things like that and how are you teaching your kids how to show up, how to be, there? Having those conversations after and enduring and connecting with them.
Catherine Wilde
Yes, I think that that goes back to what we were talking about before. They're watching when we model what yeah. What we model, what we want them to embody.
Amy Ballantyne
It's a daily thing, right? It's not just a one time moment. It's daily, which isn't meant to put pressure. It's meant to recognize that they're going to see us when we are being really positive and kind and uplifting and volunteering and doing our good work and all of these things. And they're also going to see us when we're down and how we handle those things and how we handle stress.
And all those moments and opportunities to talk about oK, well, mommy made a mistake. Mommy shouldn't have done that.
Catherine Wilde
Mommy is human too.
COVID has had has asked us to slow down. And that's been wonderful in a lot of ways.
Finding Time for Your Self Care
Catherine Wilde
So let's talk a little bit more about prioritizing ourselves into our agendas and finding that balance between being a mom and taking care of ourselves.
How can we add ourselves into our days more and make that somewhat non-negotiable, a priority?
Amy Ballantyne
I think sometimes when I talk with moms about this, a little bit of the deer in headlights look like, "what you want me to do something for me", you know?
And I probably look like that as well. Early on, in my experience as being a mom. So my tip would be, especially if you feel like "what did she just say"?
Like, "I have to put myself first?" would be to to not look at it like this giant ordeal. Sometimes we blow things a bit out of proportion. That taking time for yourself has to be this huge event.
Amy Ballantyne
I really believe that taking time for myself means. Brushing my hair in the morning and saying to the kids, "Mommy's going to get ready". And taking that time.
And sometimes it may mean just shutting the door and locking it. Now you may have such little kids, that's not an option at this moment. Well, the bathroom conversation is always a good one to have early, though, right? Privacy.
You know, it's always a good one. Mommy wants a little bit of time.
Amy Ballantyne
And sometimes it's practicing the communication of those words that "mommy just needs a little bit of time. Just like you need a little bit of time to relax or calm down. Mommy just needs a few minutes."
But starting with some little things that, again, make you feel good. So if going and getting your nails done makes you feel good or I'm trying to think of of little things that maybe are too big or, you know, sitting with a cup of tea and maybe looking at a magazine or reading a chapter in a book.
Amy Ballantyne
And again, that might sound totally nuts to somebody who has a brand new baby, but is there a way to bring some of what you love into that moment with your new baby?
It maybe you're still cuddling and having that time, but you're going to read a book or you're going to listen to a song that you really like and sing along. And that's great for the baby. To hear that music and those sounds and your voice.
Amy Ballantyne
Perhaps you really want to move your body. And this requires you saying to your significant other or to a family member, or you can be just as wild as me and hire your first babysitter when your kid is six months or earlier. And just embracing the fact.
And this was what helped me to feel better about it. Because I was like every other person, nervous and anxious and scared, like, will this person take care of my kid? All these things, all these feelings.
Amy Ballantyne
But what really helped me to feel better about hiring a person into the house. When I interviewed them, I checked their references. I asked other women who have older kids for contacts.
Or women who had used babysitters for people they trusted. And this girl was like university age. She was amazing. She worked at a daycare. She had tremendous credentials, but she was like 18 years old.
So I was nervous as a new mom. But I actually did some reflection about the fact that people trusted me.
Amy Ballantyne
When I was 12 with their precious little humans. And because they trusted me with their precious little humans, I developed this desire to want to be a mother. And that's the gift I think that we get to give.
And yes, it's a bit uncomfortable. And yes, you may want to have your cell phone beside you the entire time you're out as you get used to it. But you're also providing this gift, an opportunity to grow again, the next generation of mothers.
Amy Ballantyne
And that you're building that trust of yourself and them and how you communicate and what your expectations are. All those things.
And I think that because I did that now, it was for me to go out and do some I was running a fitness business at the time. I was going out to lead a boot camp. It doesn't matter why you're doing it.
Amy Ballantyne
It's the fact that you're taking a few minutes for yourself. And even if you only go for 30 minutes, you walk around the block a couple of times, you go for 15 minutes to start and you walk around the block.
It's that breathing into the fact that this is something for you and you deserve it and you are worthy of it.
And you need to have ways to connect with your own self as your own human and to fuel your cup up, my friends. Because we can only pour if we've got something in there. Right?
Amy Ballantyne
And every single day that we just keep giving and giving and giving and giving, we are depleting ourselves and we need to fuel back up so that we can shine that light that we have and be the parent we want to be right and be the spouse we want to be and the sister and the daughter and all those things.
Catherine Wilde
Yes. I couldn't agree more. Yes. To all of it.
Sometimes it helps to look at it because we do want to be the best moms we can be. And so we feel like we need to give, give, give, but actually be fueling ourselves. Refilling that cup is one of the best ways that we can give and be the moms that we want to be for our kids.
Catherine Wilde
So I would love to know what is your favorite way to practice self care?
Amy Ballantyne
Oh, gosh, lately I've really, really been enjoying going for a walk right after I drop the kids at school.
I and I'm having a bit of fun with it because I'm testing out how far I can go and how fast I can go and how, like, does it make me a little bit sweaty. And anyways, but also I'm in nature, so I live really close to a bit of a forest and the river.
And now not everybody has that. This morning I saw the sunshine coming through the clouds like this perfect kind of mess of beautiful by a field.
Amy Ballantyne
I mean, it was just beautiful. So I'm like challenging myself, but also taking in the beauty and breathing and and I was doing a bit of affirmations. So I do a few different things. But this is something that's working right now. In the wintertime. We can talk again.
It may look like going back to the cup of tea. My kids have been joking. Mummy, why do you like to read books so much?
Amy Ballantyne
Because during COVID, I've actually my self care time has been taking a little bit of time to read some books. Now, my friends who have new and young children. It does get better and there is more time for you.
So when my kids were really little, it looked more like, how do I integrate them into something that I wanted to do?
So if I wanted to work out, it looks like my toddlers climbing all over me and me attempting to do some kind of push ups or tricep dips or a workout video and them bouncing around beside me and holding soup cans, you know?
Amy Ballantyne
Like and giggling or dance parties. At the beginning with children, it was, how do I still do the things that I want to do? How can I involve them in it?
Maybe it's less serious, less structured. But how can I get some of that in? And that's what I would challenge those people with younger children to do.
Catherine Wilde
Those are great ideas. So you have gained so much insight on your journey. If you could go back to the beginning. Is there any advice you would give to yourself?
Amy Ballantyne
Oh, gosh. Oh, you make me cry and be kinder to my mom. That would be the probably one of the biggest ones is.
Oh, you know, maybe you weren't like this, but as a teenager or a university student, I would see a mom with a kid with boogers all over their face and chocolate pudding.
And you just think like, why don't you wipe the kids face off? There are so many days now, so many days, so many days when I laugh at myself about the fact that I looked down like, "What's on your face?" And we will have been out fr an hour and I didn't notice, because there's so much else going on.
Amy Ballantyne
So having patience breathing into all these decisions that we have to make. And stepping out, if possible, for a moment out of your body to look into the future and think, is this decision as big as what I'm making it?
For example, what type of diapers? Or what type of formula? Or for some people, that decision is very, very important and it will be, even if you look at it from the outside view based on what their values are.
Amy Ballantyne
But I think sometimes, as moms, we it's like we became a mom and they pour this giant bucket of guilt into the top of our head. And worry, right?
To just trust. One of the gifts that I'm having, the third baby, and I don't know if people said this about you as well, Catherine, but it was like when third baby came, people actually said to me, "Who are you? Where did Amy go?". It's like you're a different person.
Because I had so much more patience with myself. I was so much more kind to myself. I didn't worry about things as much as I did with the first two.
Amy Ballantyne
I didn't stress about it. I was like, well, the other two turned out OK. I know what I'm doing. I'm trusting myself, trusting my intuition.
And that's what I would tell myself if I could go back. That's what I would tell every mom is like, "You know. You are the mom. You were here to protect and guide these little people in your world. So do your best to tune out some of the stuff that's coming at you and just trust more in yourself."
Catherine Wilde
Yes, absolutely.
I loved this conversation. Thank you for sharing. Thank you for your honesty. Thank you for sharing all your tips with us.
Catherine Wilde
Will you let us know where we can find you online? Absolutely.
Amy Ballantyne
I would love for your listeners to connect with me on Instagram, which is @amyballantyne on Instagram. Any of the social platforms. I'd love to continue the conversation. And know that being a mom is probably the hardest thing you're ever going to do.
And I'm here if you if you want support. I offer a free 30 minute consultation and there's a link in my Instagram as well as all over the place on my website amyballentyne.com.
Catherine Wilde
Thanks so much, Amy!
Thanks for joining me, Mama. I'm over here smiling from ear to ear and giving you a big virtual hug. I love spending this time with you.
You are amazing for showing up and carving out this space to nourish your soul. If you are loving the Soul Care Mom Podcast be sure to subscribe and leave a review.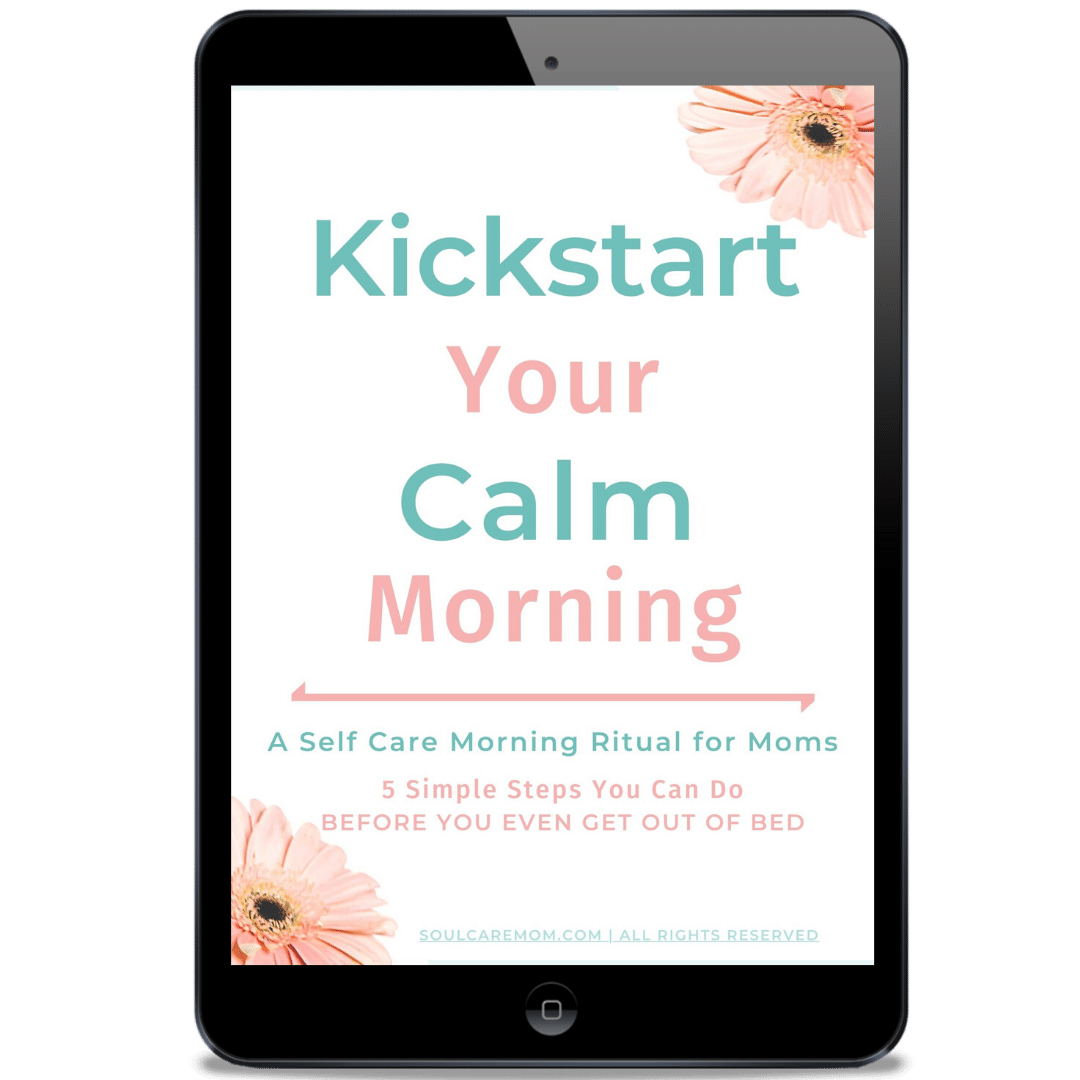 And if you are ready to start your mornings feeling calm and energized, get the Kickstart Your Calm Morning Guide. A self care morning ritual for moms as a free gift when you join the Soul Care Mom Community.
Head over to soulcaremom.com/kickstart and enter your email address to get your free gift and start feeling like a calm mom today.
Sending you so much love, Mama.
Pin this SoulCare Goodness for Later!